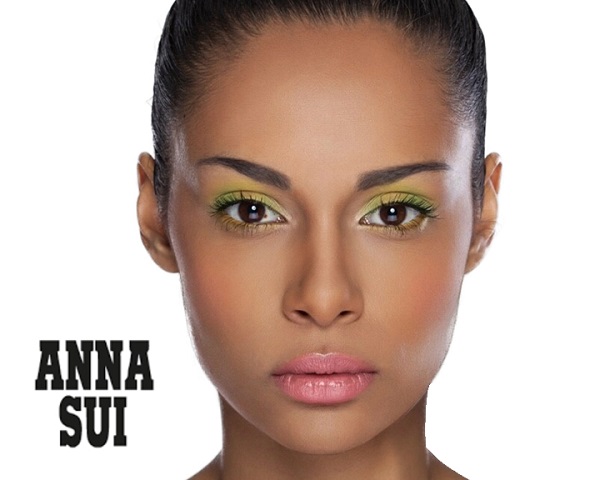 "This is an homage to the sun! Energetic, imaginative, and witty…Taking the signature color yellow and adding it to your palette may seem "disruptive" but it can also brighten your eyes, give you that "pop" and bring out the colors of your eyes.
The inspiration is from butterflies! You can either take the wings of a butterfly as your template to a design or simply take what a butterfly does and transform! Let your eyes wake up, and by adding a little yellow you will look and feel more energetic all summer long." 
- Jocelyn Zayco, Anna Sui Cosmetics National Makeup Artist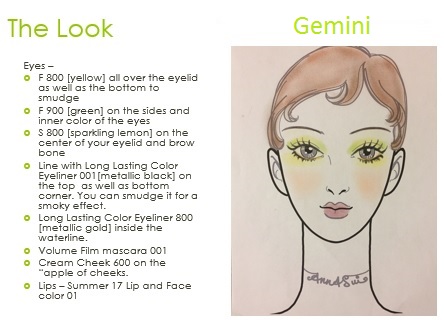 Eyes-
Use F 800 (yellow) all over the eyelid as well as the bottom to smudge
Use F 900 (green) on the sides and inner corner of the eyes
S 800 (sparkling lemon) should be placed on the center of your eyelid and brow bone
Line your eyes with the Long Lasting Color Eyeliner 001 (metallic black) on the top as well as the bottom corner. You can smudge it for an added smoky effect.
For the inside of the waterline, use Long Lasting Color Eyeliner 800 (metallic gold)
Volume Film Mascara 001 for your lashes
Face-
Cream Cheek 600 on the apple of the cheeks
Lips-
Summer 17 Lip and Face Color 01
You can visit the Official Anna Sui store at:
484 Broome Street
New York, New York 10013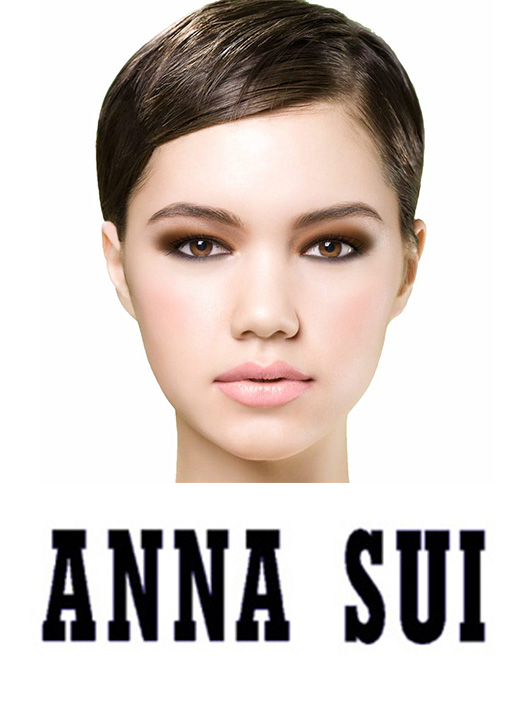 Warm & Fuzzy by Anna Sui Cosmetics
"Keeping your palette to a single color group is always a winner. Take for example these terra cotta lids done to frame your eyes. For a fresh and feminine option, keep the dusting of brownish apricots light and ethereal. With a touch of orange, it'll anchor all the warmth with a cool girly edge." 
- Jocelyn Zayco, Anna Sui Cosmetics National Makeup Artist 
Suggested looks from another artist

"This cut crease is perfect for a special occasion! It's super dramatic but can be worn with anything because of the soft colors."