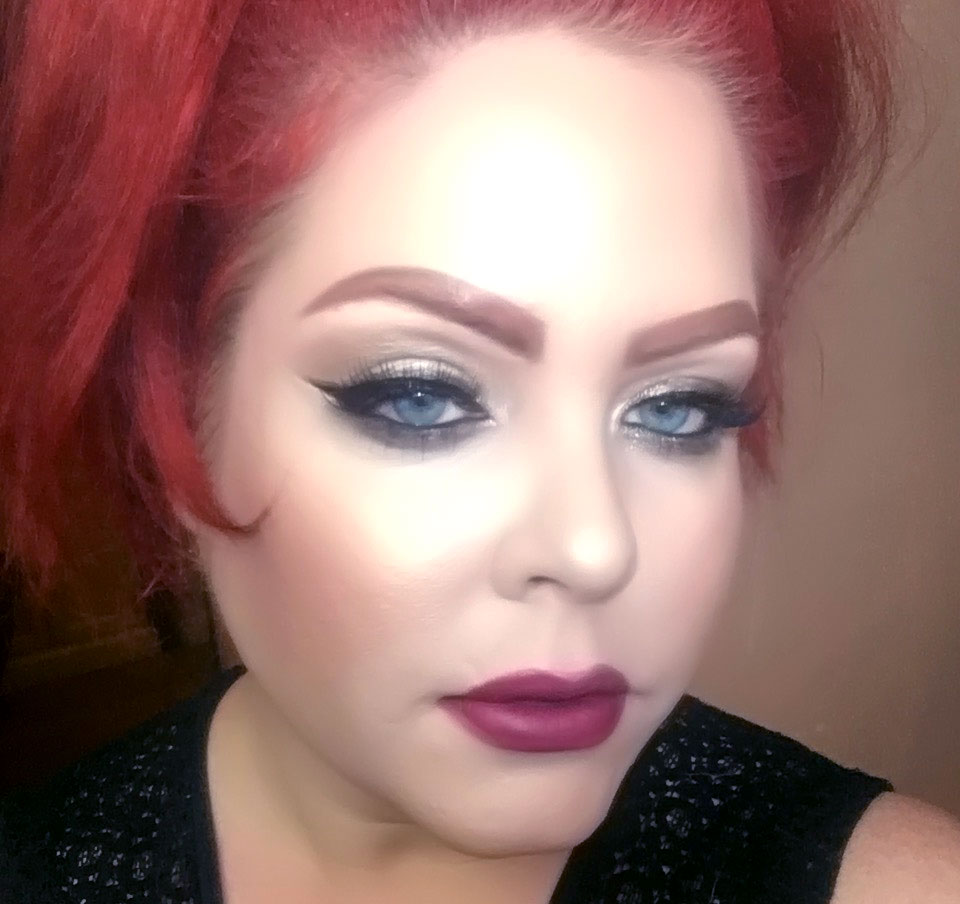 Meow! Check out this cute cat eye look created by our makeup artist Krista McAulay! This look was inspired by the adorable (and adoptable!) kittens from our friends at the Humane Society Silicon Valley Animal shelter!

Use concealer or foundation with a Beautyblender and pat on the lids to remove any discoloration. Apply scotch or medical tape to the sides of the eyes in the exact angle and placement you want your winged eyeliner to be. This will be your guide. Using the NYX Lid Lingerie, or a frosty white cream shadow, apply to the entire bottom lid and up into the crease, and also adding a bit to the inner corners of the eye. Make sure to apply along the sides of the tape you added.
Dip a crease blending brush into a soft warm brown shade, matte preferred, but slightly frosty is okay, and fill in the crease with this color to add definition. Make sure to reach all the way over with the color so that it rests against the tape.
Take the Hard Candy Eye Def Glitter Eyeshadow color in Ditch (an antique bronze shade) and use it as you would a liquid eyeliner--but be sure to go thick! Draw a flick that starts up as high as you prefer, resting the applicator tip along the tape so you will get a clean cat eye edge when you peel the tape off at the end of the tutorial.
Taking a very black liquid eyeliner like Kat Von D's Tattoo Liner in Trooper, and starting with the flick first, start at the very top and draw downwards, against the tape. Using whatever direction you wish, draw the liquid liner on the bottom lid above the lashline. Spend time perfecting your cat eye. Make sure the black portion of this cat eye is not larger than the glitter liner you applied in the last step.
Remove the tape slowly, peeling from bottom up. You should have a perfect cat eye! If not, go back in with the black liquid liner and clean up the edges. Tightline your bottom waterline with a black long wear eyeliner. Take the Hard Candy Eye Def Glitter Liner in Ditch and apply it to a round pencil brush and apply it below your lower lash line. Blend!
Apply one coat of volumizing mascara and fill in your brows. Use a highlighting color under your brow--preferably a matte shade. Apply lashes of your choice.
Apply the rest of your face: Bronzer, highlighter, blush, and a pretty nude or berry liquid lipstick. Red would also look great! Actually, just about any bold lipstick shade would work with this eye. Enjoy!
Suggested looks from another artist